Data: DAY 1 Wednesday 1st January 2020
(Total Operational Days = 366)
Happy New Year!
Just a brief note to say that I will be off-line (in terms of this Blog) for approximately 7/14 days.
I am still betting but introducing some new types of bets along with some new software - so my working day has lengthened somewhat! So this is my way of letting everyone know that I am still 'operational'. I will return to giving regular updates as soon as possible.
Year End Report 2019
At the start of 2019 I targeted myself to achieve £100,000 by the end of the year. In reality I expected to reach my target by late autumn at worst. Up until July it looked as though this was achievable. However, in August the number of bets that met my selection criteria started to fall away. Also, for the first time, I noticed that the Odds I could find were not as 'good' as they had been. This 'double-whammy' continued to impact performance for the rest of the year, culminating in (by my standards) an awfully quiet December. As you can see from the graph below the rate of climb became shallower in the second half of the year. The Monthly R.O.B (Return-on-Bank) dropped away. The early giddy days of 30%+ Monthly R.O.B became a thing of the past!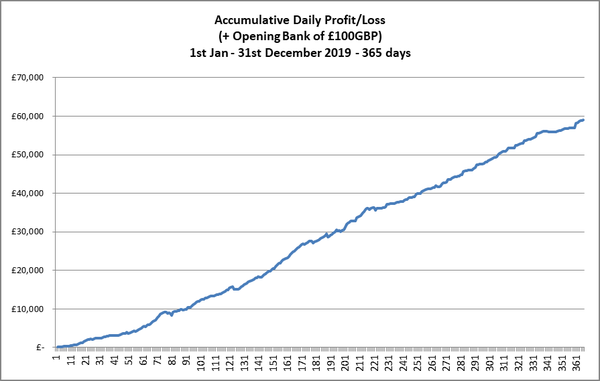 I should point out that during the year I was continually working on increasing the Strike Rate (my target is 97.50%). The only way to increase the Strike-Rate is, not surprisingly, to decrease the Loss-Rate. Decreasing the Loss-Rate necessarily requires a refinement of the Selection Criteria – the aim of which is to minimise the chances of selecting bets that lose. By November 2019 I felt that I had perfected that side of the operation – resulting in September, October and November having, on average, a 99.22% Strike-Rate. Unfortunately December threw up a number of unexpected losses (it happens). Had there been more bets available in December it may have been possible to pull it back – but that is now history.
As a result of the Selection Criteria being refined I now have what I consider to be as good a set of criteria as it is possible to have. There are currently 18 filters in the selection process and 17 of them are "objective" rather than "subjective". This last point is vitally important as it means 17 of the 18 criteria can be programmed into and run by a computer. After Easter 2020 I will begin a search for someone or a business that can develop such an API. This will, when developed, free up considerable time for me to develop other profitable 'products' (of which I have approximately another dozen or so in the R&D pipeline).
Another action taken by me that undoubtedly resulted in lowering the profitability of individual bets (in the second half of 2019) was the reduction in Risk. In the first half of the year the Risk could be as high as 10% of the Bank. It rarely was I hasten to add. It was closer to 5%. However, I decided to bring the Risk down to 1% over time. This I have now achieved. So, in theory, I could lose 97 bets in a row (extremely unlikely!) and still have cash-in-the-bank. The mathematical reality (yes it can be proven) is that with a Strike-Rate of 97.50% the most back-to-back losses I will suffer is four! When that happens (and it will) I stand to lose just 4% of my Bank. That I can live with. To ensure a 'Belt and Braces' approach I just need to work out the probability of two maximum back-to-back losses (4) - back-to-back (i.e. 8!). I hope that makes sense.
In November I finalised two additional products and in December I paper-traded them. The results of those dry runs means that I will, from January onwards, bet them initially with a scaled-down Stake (reduced Risk) until I am confident that they work as well in the real world as they do on paper! It would appear that their effect, if carried on in reality, will be incremental, not seismic, gradually strengthening my profit capability.
As always the route to success is
Patience, Attention to Detail and Discipline
.
New to this Blog?:
Please read BOTH my 'Preamble' on
DAY 1 of this Blog and my End of Year 2019 Report on DAY 366
. It should answer most of your initial questions.