Data: DAY 365 Tuesday 31st December 2019
December 2019
Today
M-T-D
Y-T-D
No. of Bets:
8
97
1785
Winning Bets:
8
95
1714
Strike Rate:
100.00%
97.93%
96.02%
Return on Bank:
0.34%
6.09%
Profit / Loss:
£201.01
£3,389.47
£59,011.04
Total Bets
Bets per Day*
Profit per Bet*
Daily Profit*
Weekly Profit*
Monthly Profit
Accumulative
January
293
9.45
£8.31
£78.52
£608.53
£2,434.11
£2,434.11
February
199
7.11
£13.49
£95.90
£671.32
£2,685.27
£5,119.38
March
165
5.32
£28.43
£145.68
£1,172.76
£4,691.04
£9,810.42
April
111
3.70
£50.06
£185.23
£1,389.19
£5,556.79
£15,367.21
May
191
6.16
£26.43
£162.83
£1,139.45
£5,047.77
£20,414.98
June
169
5.63
£43.91
£247.41
£1,855.56
£7,422.22
£27,837.20
July
174
5.61
£40.24
£225.84
£1,750.26
£7,001.05
£34,838.35
August
128
4.13
£27.65
£114.17
£884.81
£3,539.24
£38,377.58
September
110
3.67
£47.10
£172.70
£1,295.27
£5,181.08
£43,558.56
October
74
2.39
£77.91
£185.97
£1,441.25
£5,764.99
£49,323.65
November
74
2.47
£85.11
£209.93
£1,574.48
£6,297.92
£55,621.57
December (31 of 31)
97
3.13
£34.94
£109.34
£847.37
£3,389.47
£59,011.04
£59,011.04
*
above denotes an average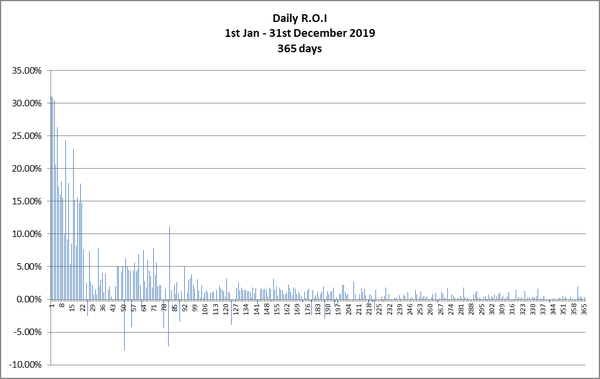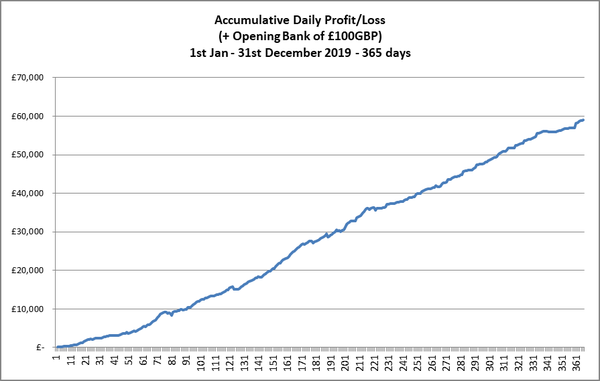 Comment:
Well it could have been a worse end to the year (but not by much!). I ended the year £40K short of my self-imposed target (but £60K richer than when I started). More on that in my End-of-Year-Report, which will follow in due course.
My analysis of this month is simple - Very poor odds coupled with not enough selections that met my criteria.
On the plus side an acceptable Strike Rate - over 97.50% which is my target.
I'll write up a Report for the year (it will be a few days as I consider things). Tomorrow is the start of Year 2, let's hope it is better than 2019.
I may 'appear' to go quiet for the next few days but I will be working away. I hope to have some updated Tables and Graphs for 2020. And, I may be launching some additional types of bets (but then again maybe not). We shall see.
Finally, may I wish you a peaceful and prosperous New Year!
New to this Blog?:
May I suggest you read my 'Preamble' on
DAY 1 of this Blog
. It should answer most of your initial questions.

Until tomorrow ...