Data: DAY 364 Monday 30th December 2019
December 2019
Today
M-T-D
Y-T-D
No. of Bets:
0
89
1777
Winning Bets:
0
87
1706
Strike Rate:
000.00%
97.75%
96.00%
Return on Bank:
0.00%
5.73%
Profit / Loss:
£000.00
£3,188.46
£58,810.03
Total Bets
Bets per Day*
Profit per Bet*
Daily Profit*
Weekly Profit*
Monthly Profit
Accumulative
January
293
9.45
£8.31
£78.52
£608.53
£2,434.11
£2,434.11
February
199
7.11
£13.49
£95.90
£671.32
£2,685.27
£5,119.38
March
165
5.32
£28.43
£145.68
£1,172.76
£4,691.04
£9,810.42
April
111
3.70
£50.06
£185.23
£1,389.19
£5,556.79
£15,367.21
May
191
6.16
£26.43
£162.83
£1,139.45
£5,047.77
£20,414.98
June
169
5.63
£43.91
£247.41
£1,855.56
£7,422.22
£27,837.20
July
174
5.61
£40.24
£225.84
£1,750.26
£7,001.05
£34,838.35
August
128
4.13
£27.65
£114.17
£884.81
£3,539.24
£38,377.58
September
110
3.67
£47.10
£172.70
£1,295.27
£5,181.08
£43,558.56
October
74
2.39
£77.91
£185.97
£1,441.25
£5,764.99
£49,323.65
November
74
2.47
£85.11
£209.93
£1,574.48
£6,297.92
£55,621.57
December (30 of 31)
89
2.97
£35.82
£106.28
£797.12
£3,188.46
£58,810.03
£58,810.03
*
above denotes an average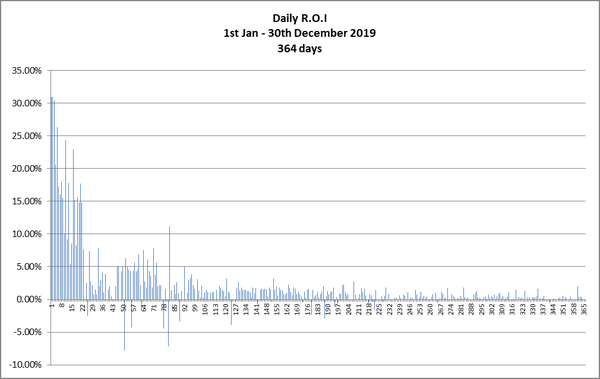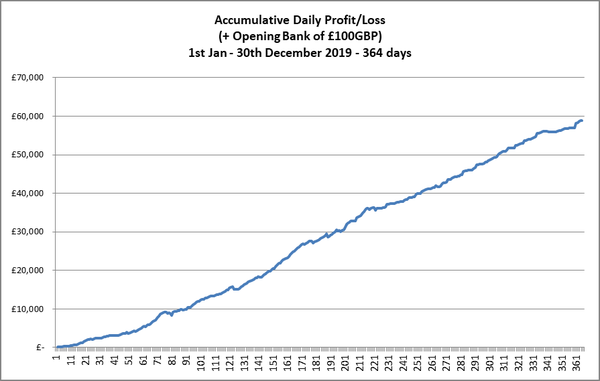 Comment:
No selections met my criteria today. A somewhat disappointing run up to New Year's Eve!
In my dreams I hope to make a profit of £1,189.97 tomorrow

However, in reality I'll be lucky to make £118.99 based on my current performance!!
After tomorrow I will write up my December report and then a day or two later my Report for the Year once I have had time to reflect on it. Needless to say making a tad shy of £60K is way off my original goal of £100K plus - so I will consider where things 'went wrong' (assuming that they did) and what lessons can be learned.
New to this Blog?:
May I suggest you read my 'Preamble' on
DAY 1 of this Blog
. It should answer most of your initial questions.

Until tomorrow ...