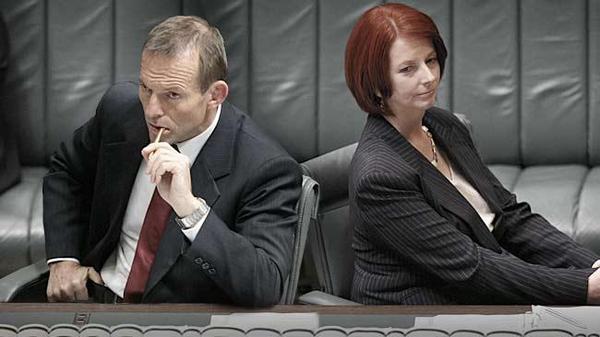 What started as a week of opportunity as we strode into the first parliamentary session of the year, with a government struggling to find form and a Prime Minister under siege following poor polling numbers - turned out to be a nightmare of a week for Tony Abbott and indeed the Coalition.
She's a brutal game politics. As a wise man once said some time ago on the 7:30 Report on the ABC, "Politicians will be judged on everything they say" The wise man, at the time, who uttered these words - Tony Abbott. [;)]
I assume that most people will have seen or heard about THAT comment, made by Tony Abbott in Afghanhistan last year during discussions with a US General, which was broadcast during a report by Mark Riley on Channel Seven during the week.
Abbott, whilst discussing the conditions of war and the "apparent" lack of firepower for our troops, basically stated that during times of war, "sometimes.....sh1t happens". The full vision of the discussion, not aired by Seven, shows the troops surrounding Abbott nodding in agreement and the US General responds, "it certainly does".
In my view, it was gutter journalism. Drudging up the death of one of our diggers and throwing it into the face of the nation - and into the faces of those who were near and dear to this brave young man - and trying to use it politically damage an Opposition Leader.
Accordingly, many have cast harsh judgement on journalist Mark Riley for his story - late this week, the anger had shifted and seemed aimed wholly at Mark Riley. I think most acknowledge that Abbott meant no disrespect to the dead soldier - which explains the silent response from Abbott when quizzed by Mark Riley.
Have a think about it! How would you react if someone suggested you had no respect for a dead Australian soldier? Anyway, what's done is done. As I've said, those of us who are political "supporters" will no doubt batton down the hatches in our respective camps - its Mr and Mrs Average who will cast lasting judgement on Tony Abbott. The fall-out from this continues, until Tuesday week. When a fresh Newspoll is released for all to examine - no doubt, forensically. It needs to be acknowledged this incident and this week, will have assisted the government - but I think Gillard Labor's woes far outpace those of the Coalition.
This issue aside, I believe it is vital, that the Coalition spend the year shoring up policy across all areas. This hung parliament presents an amazing opportunity. With a strong year of policy re-working, the Coalition can be ready to handle any potential bounces the government will no doubt receive late this year or early next year. Opposition is a tough game. As John Howard made clear during a recent appearance on Q&A - Tony Abbott will have plenty of up's and downs between now and the next election.
One last thing - late this week, disunity appeared, albeit on a small scale, which seemed to fester from a disagreement on foreign aid, between Tony Abbott and Julie Bishop.
Disagreements with people, as in life, is commonplace in politics - its how it's handled that is crucial in politics. I'm confident many within the Coalition are familar with the phrase: disunity is death. There may well have been a small push to having Bishop replaced as Deputy Leader, but any push will be extinguished this weekend. Many within the party are acknowledging the affect any moves would have on Tony Abbott. It's ironic though, for Labor to suggest superiority on this issue. Labor have many on the frontbench who hate each other's guts.
One couple come to mind, Julia Gillard and Kevin Rudd.
Whilst some talk of the pending death of Tony Abbott as Opposition Leader, there are many within Labor who are openly discussing there "options" in terms of leadership. It's also worthy to note that Bill Shorten has been keen to tell anyone who's willing to listen that he will lead Labor to the next election.
We are in precarious times with a government that hangs on by the thread of a few independents and that is struggling to find its way or deliver strong governance that the public, by way of polling, are clearly yearning for. These few weeks out of the way, I'm hoping to see the Coalitions foot back on the throat of the government - keeping it to account and crucially, showing the Australian people what a credible alternative Tony Abbott and the Coalition team are.

Your thoughts?